Clos Bagatelle, Geologically yours!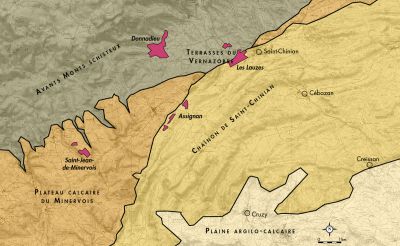 Geology has left a generous legacy of 4 outstanding terroirs to Clos Bagatelle.
Here, things are different. The relief of the landscapes evokes the ancient seas, lakes, rivers, the extinct dinosaurs and the mountains witness to a geological period of intense activity that has given this terroir its identity.
If the winegrower makes a thorough analysis of them, schists, limestone, marl and quartzite reveal their strong bond with climate, their hard or soft texture, their simple, complex or totally acid composition.
If the winegrower takes them as they are, they remain the loyal partners that give the best of themselves.
Clos Bagatelle, 4 terroirs
Terroir of Donnadieu, resulting from the Ancient Hercynian Mountain.
Climbing towards the foothills of Haut-Languedoc, the hills form a dense landscape intersected by narrow vales revealing progressively a secret terroir.
This secret dates back to 300 million years when the Ancient continents collided forming a huge range of mountain stretching from East to West across Europe.
The geological layers of that period were crushed, heated, folded and turned over like a blanket sliding from a bed. The schistous terroir was born.
Terroir of Saint Jean de Minervois resulting from the Atlantic
Strolling towards Minervois, the landscapes opens out on a huge limestone plateau, dazzingly white, notched with secret narrow gorges. Its history dates back to the formation of the Northern Atlantic Ocean who made an incursion in Minervois and left limestone layers comprising myriads of tiny fossils dating back to 55 million years.
After it receded, lakes were formed on this territory leaving in their turn white limestone deposits that form the present plateau.
Terroir of Assignan resulting from the Pyrenees
Arriving from the Mediterranean sea, across the limestone clay plain, you will see the ridge of Saint- Chinian adjacent mountain range on the horizon which forms a succession of limestone bars, oriented North-East/South-East, alternating with marly sandstone anticlinal valleys.
They form an outpost of the Pyrenees whose terrains have been dragged north as by a bulldozer when the Iberian plate collided our continent 40 million years ago.
Terroir of La Lauze resulting from recent glaciations
At the gates of Saint Chinian, The Vernazobre river spreads its alluvial deposits in multi- layered terraces dating back to 100 000 years.
They were washed down from the near by mountain by the streams during the cold and humid period of the Quaternary Era. Boulders of quartzite extremely hard, mixed with silt constitute this open terroir.